Sillabatore
1.2
for iPhone & iPad
Price:

FREE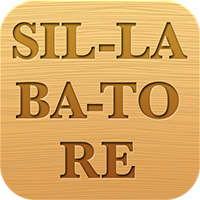 Sillabatore is a small utility that automatically splits Italian words and phrases into syllables. Unlike English, the Italian language has fairly regular rules for hyphenation, with only a few exceptions. Typing a word or phrase and tapping "Go" is all it takes to obtain the hyphenated result.
It is important to keep in mind, however, that in some cases the result may be incorrect. In some cases, the proper hyphenation of Italian words depends on the length of vowels and on the stress to define whether a vowel cluster constitutes a diphthong or not. For instance, the ria cluster is to be considered differently in Maria and Ilaria: Ma-rì-a and I-là-ria. Since it's impossible for a computer to tell the difference (lest a huge wordlist database is manually added to the system), the algorithm follows the standard rule, according to which ria is a single syllable.
For this reason, while the generated hyphenation is usually correct, in some cases it may not be. When in doubt, check with a dictionary!
Once generated, the hyphenated result can be copied to the pasteboard, sent via e-mail or shared to Twitter.
Screenshots — iPhone / iPod Touch
Screenshots — iPad